GEOFLAM® Horizontal fire rated ductworks

The fire rated ductworks are made by juxtaposing GEOFLAM® F-Light boards 1000 mm long and 35 mm thick or by assembling GEOFLAM® FX boards of a single size: 1000 x 900 mm (W x L) and 50 mm thick.
These systems are available for fire classifications EI 120 and EI 180: 2- and 3-hour fire resistance according to EN 13501-3 and EN 13501-4. All GEOFLAM® F-Light boards are moulded to standard dimensions with a rabbet on both sides for 35 mm thick ducts, to facilitate assembly.
GEOFLAM® FX boards are single dimension and do not have longitudinal rabbets for easy cutting and assembly in the case of 3 hours fire rated ducts installations: EI 180S.
SYSTEM ADVANTAGES
2 to 3-hour fire resistance rating
100% natural gypsum-based products
CE certified
Ease of installation
Time saving
Compatible in particular with Rft products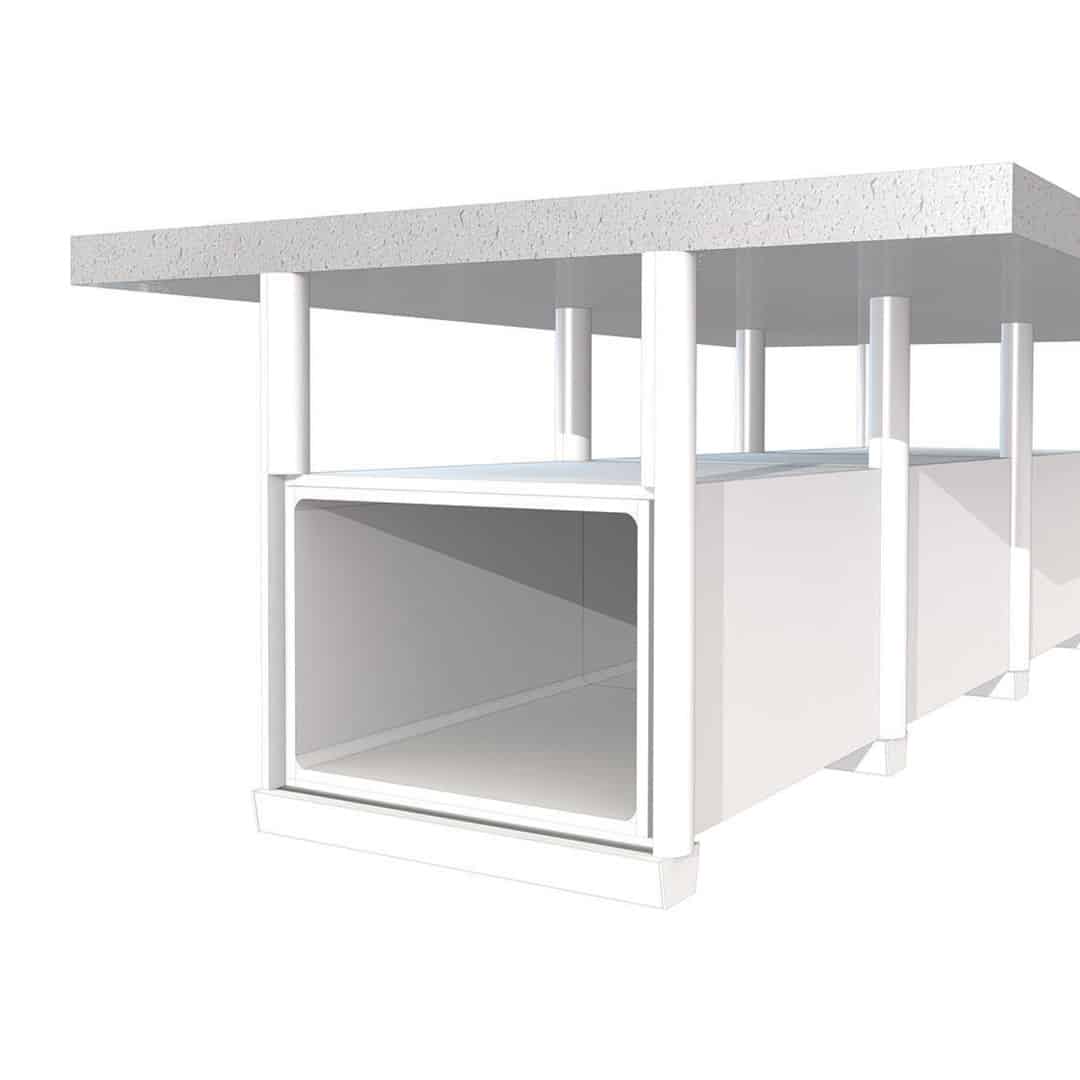 Horizontal or vertical GEOFLAM® smoke extraction ducts
| Tests in accordance with EN 1366-8 | Board's reference | Thickness (mm) | Fire resistance classification EI S i <-> o | EFECTIS assessments | Internal cross-sections (mm) | Max ht | System applied |
| --- | --- | --- | --- | --- | --- | --- | --- |
| Horizontal and vertical smoke extraction | GEOFLAM® F-Light | 35 | EI 120S | PV n° 13-A-895 | 0x0 to 1250x1000 | 7 ml (2 reinforcement collars) 10 ml (3 reinforcement collars) | Polochonnage (mixture of sisal fibre and glue) |
| Horizontal and vertical smoke extraction | GEOFLAM® FX | 50 | EI 180S | PV n° 10-A-067 Rév.3 | 0x0 to 2500x2000 | 7 ml (2 reinforcement collars) 10 ml (3 reinforcement collars) | Polochonnage (mixture of sisal fibre and glue) |
Horizontal or vertical GEOFLAM® ventilation ducts
| Tests in accordance with EN 1366-1 | Board's reference | Thickness (mm) | Fire resistance classification EI S i <-> o | EFECTIS assessments | Internal cross-sections (mm) | Max ht | System applied |
| --- | --- | --- | --- | --- | --- | --- | --- |
| Horizontal and vertical ventilation | GEOFLAM® F-Light | 35 | EI 120S | PV n° 13-A-894 | 0x0 to 1250x1000 | 7 ml (2 reinforcement collars) 10 ml (3 reinforcement collars) | Polochonnage (mixture of sisal fibre and glue) |
| Horizontal and vertical ventilation | GEOFLAM® FX | 50 | EI 180S | PV n° 12-A-344 Rév.3 | 0x0 to 2500x2000 | 7 ml (2 reinforcement collars) 10 ml (3 reinforcement collars) | Polochonnage (mixture of sisal fibre and glue) |